Lightening Deals
| | |
| --- | --- |
| Grab hot & steaming daily deals | |
Simple ways to save energy at home in just minutes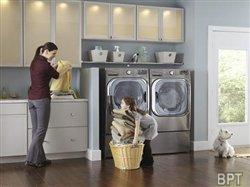 Home is where the heart is. But it's also a place where families can be more conscious of their energy use. While conserving energy helps save the planet, it also helps homeowners save money. Here are some simple tips you need to know about.
Low-maintenance exterior upgrades that add value and style to your home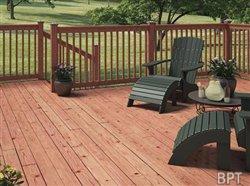 Sunny days and clear skies are perfect for making exterior home improvements. Homeowners want to use their time and money wisely, so it's important to choose projects that are low-maintenance and have a good return on investment. Consider these top exterior projects that will increase your home's value and curb appeal. And, because they're low-maintenance, you'll get more time to enjoy the beauty of the season.
Roof maintenance tips for every season
From intense heat to extreme snow, your roof protects your house from the elements all year long. When is the last time you checked to make sure your roof was in good shape? No matter what the seasons are like in your area, now is the time to begin preparation for extreme weather by giving your roof a second look.
Three stress-free tricks to refresh your home from floor to ceiling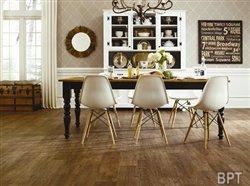 Spring is the time of year for renewal. So, it's no surprise that springtime finds most people planning to rejuvenate their spaces. Follow these three tips to give your home a stress-free, springtime makeover.
Tips for extending your home into your patio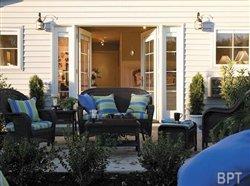 In warmer weather, patios transform into the ultimate gathering space for backyard barbecues, reading, relaxing or even exercising. These outdoor rooms become an extension of the house, seamlessly merging the outdoors inside and vice versa.
Take control and mitigate mold growth in your home
Damp, dark areas of the home, such as an unfinished basement, can often be trouble spots for homeowners hoping to increase their living space. Left unfinished, these areas of the home can potentially suffer significant damage, be prone to flooding or develop mold. When it comes to home improvement, homeowners are wise to consider the affects of moisture and mold buildup and how they can be combated.
Greenest of the green: Top efficiency-boosting home improvements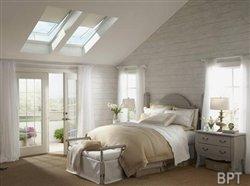 Forget wondering who's the fairest; when it comes to choosing home improvements that make your home look good - from the curb and to potential buyers - it may make more sense to ask "Who's the greenest of them all." Sustainable home improvements not only help reduce utility costs and boost owner satisfaction with their homes, they also make a house more appealing to potential buyers.
Three ways to give your home's curb appeal a boost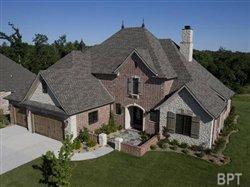 From simple upgrades to meticulous landscaping projects and replacing an outdated roof, there are dozens of options to enhance the appearance of your home's exterior. Improvements don't need to break the bank or take a year to complete. By focusing on three simple areas, you can change the entire look of your home that you'll appreciate every time you pull into your driveway.
Today's dream home utilizes modern technology for increased functionality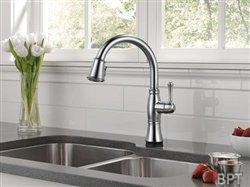 The number of improving housing markets expanded for a sixth consecutive month in January 2013 according to the National Association of Home Builders/First American. With this positive sign, it's an interesting time for homeowners to consider investing in high-tech home upgrades that not only increase their home's value and simplify everyday tasks, but also create a dream home ambience for the entire family to enjoy.
How to take advantage of home improvement tax rebates before time runs out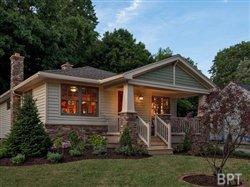 The tax credit included in the American Taxpayer Relief Act of 2012 is the first home improvement incentive since 2011, making this remodeling season an opportune time to upgrade your home's energy efficiency and curb appeal before time runs out on Dec. 31, 2013.
Top remodel trends for the modern home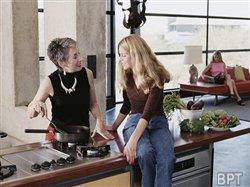 Thanks to foreclosures and short sales, home buyers are snatching up great houses at reduced prices and remodeling to create stylish modern homes. Lucky for those buyers, many of today's top trends are relatively easy to recreate, and will add resale value to their homes.
Housetraining your puppy: Tips for keeping your dog behaved and your home clean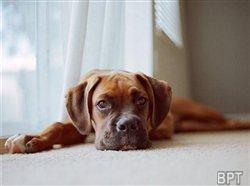 Few things are as exciting as bringing home a new puppy. Whether chihuahua or Great Dane, a pup's playful antics delight people of all ages. Having a dog can bring many years of companionship and precious memories, but before you ask, "How much is that doggie in the window?" consider a few expert tips for positive housetraining.
Top technology trends for 2013 that make your life easier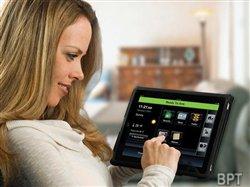 Whether you are a college student, working parent or empty-nester, modern life has never been busier. Luckily, a variety of technology innovations are dramatically affecting the way we live, helping us streamline our routines, reduce stress and maximize each minute of the day. Which new technologies are proving to be indispensable?
Californians lead the way - again - in trend toward 'greener' backyards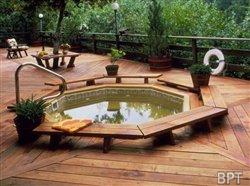 From implementing stricter standards for vehicle emissions to creating a state-level agency to administer stewardship of the environment, Californians have always been at the forefront of the green movement. That commitment to the environment even extends to local backyards, where California homeowners are turning to eco-friendly materials, building practices and landscaping to create "greener" outdoor living spaces.
Building project tips to ensure a successful and smooth build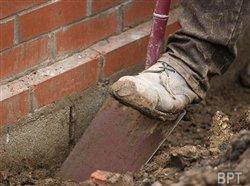 Joey Logano, driver of the No. 22 Shell-Pennzoil Ford Fusion, recently started a huge project: building a race shop for his cars and equipment from the ground up. After deciding to build his own shop, Logano purchased a piece of land and started digging. The massive undertaking brought with it its own trials and learnings, but in the end, Logano took measures to build safely and securely. The project resulted in an impressive race shop that will be used for years to come.
Tips for making your spring cleaning a breeze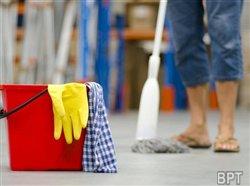 A long winter season can leave you and your family longing for outdoor activities. Before you head for some fresh air fun, you need to get your home in order for the spring and summer months ahead.
More beauty, less beast in your lawn and garden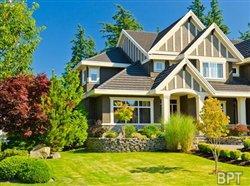 A tale as old as time, true as it can be ... insects, weeds and poor fertilization are the beasts that take away from the beauty of plants and flowers in our lawns, gardens and even homes. To maintain a home and landscape your neighbors envy, interiors and exteriors should remain pest-free, and plants should be fed with the proper nutrients to stay healthy all-season-long
High-design, high-tech ideas for making your home more luxurious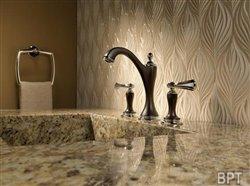 With so many demands on our time these days, it's easy to relegate adding luxurious elements to the home as something better suited for another day. Yet, with concerted effort and a few purposefully chosen items, it is easier than ever to create a home environment that pampers you each and every day.
Surprising ways hot tubs heat up relationships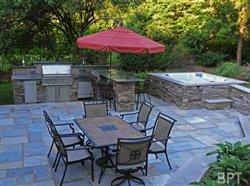 Recreating that spark or special connection with your spouse or significant other, free from the distractions of everyday life, isn't as difficult as you may think. The answer can actually be found in your own backyard.
Summer garden glory without the weeding and watering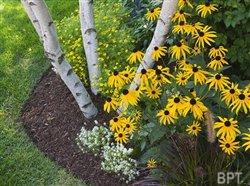 Summer can be tough on gardens. In what should be their glory days, many gardens suffer from neglect. Long weekends and summer vacations leave yards untended, while summer heat is an excuse for putting off chores. But it doesn't have to be that way. It's possible to have both a glorious well-maintained garden and time for fun in the sun by taking some smart gardening steps now.
Spruce up your home for spring in just a weekend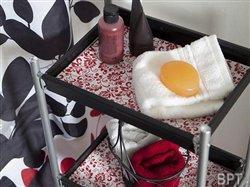 As the weather gets warmer, everything outside becomes fresh and new - so why not make your home as nice inside as the weather is outside? In just a weekend, you can complete a few quick, easy projects that will make a big difference in your space. Get inspired to give your home a spring spruce-up with these handy tips.
Tips for knowing when it's time to replace products on your home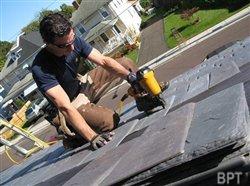 Owning a home means giving constant attention to the building products that go into protecting the structure of your house. While we'd like to believe items like our roof, siding and windows will last forever, that's not the case. All items will eventually need replacing, and here's how to know what to look for.
Soul-lifting home improvements that are good for your wallet, too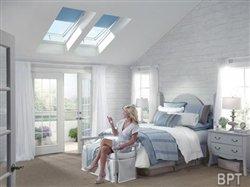 When it comes to deciding how to spend your renovation dollars, some home improvements can boost both your spirits and your home value. Here are some soul-lifting home improvements that also add value to your home.
Chef-inspired tips for a cleaner, more efficient kitchen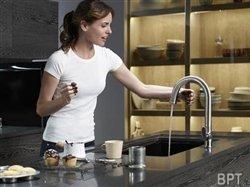 If cleanliness is next to godliness - as the old adage goes - than a clean kitchen is simply a divine place to be. It's the room in your home that gets the most intense use, so keeping your kitchen clean can be a challenge. You can make kitchen cleanup a bit easier if you take your cleanliness cues from professional chefs.
Three tips to save time spring cleaning
It's that time of year - throw the windows open and refresh your house with a good, deep clean. Americans spend nearly 70 hours cleaning their homes each year, according to a recent report from the U.S. Bureau of Labor Statistics. Get your time back with three easy tips to make the process fast and stress-free.
Hiring pros for spring cleaning tasks? What to look for and what it should cost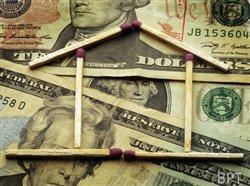 When you hire a professional to handle a cleaning task, how do you know what he or she should be doing for the money you pay? For that matter, how do you know how much you should expect to pay? Here are some common spring cleaning and maintenance tasks that you might hire a professional to do - and some guidance for what these jobs should entail and cost.
Curb appeal: 2013's hottest home improvement trend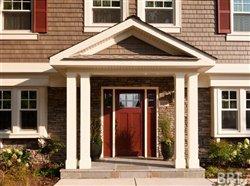 The busy home remodeling season is a great time for homeowners to focus on increasing curb appeal. The percentage of homeowners who feel now is a good time to spend money on home improvement has doubled since 2009, according to a recent survey among Better Homes and Gardens readers. Considering two of the top four features consumers have on their wish lists for their next home are low maintenance exteriors and a private backyard, high-performance products that come in a variety of colors, textures and designs are expected to be in high demand this year.
Moving or improving? Tips for a flawless painting project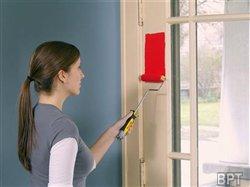 Did you know spring is the best time to sell your home? And now that the housing market is bouncing back, there's never been a better time to do it. But even if you're planning to stay put for the long haul, chances are there are some much-needed touch-ups you could be doing to keep your home in tip-top shape. And you don't have to break your back, or the bank, to do it. In fact, adding a new coat of paint is a quick, affordable, and possibly the most impactful, way to get your project done.
Fast and fabulous fixes to banish a boring bath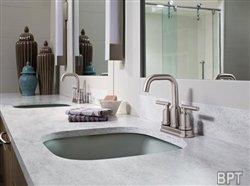 The best bathrooms are more than just functional areas - they're sanctuaries where you can escape, reset and recharge. And as one of the smallest and most-used rooms in the home, that's likely why they've become the most popular remodeling project (78 percent), according to the National Association of Home Builders.
Warmer weather home updates that are easy on your wallet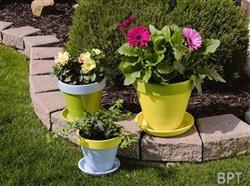 As the weather turns warmer, most of us are experiencing cabin fever, anxious to escape to the outdoors. But has the harsh winter weather put a damper on your outdoor spaces? Don't fret. You can easily spruce up your exteriors with a few easy and inexpensive home improvement projects.
Three home improvement tips to help you breathe easier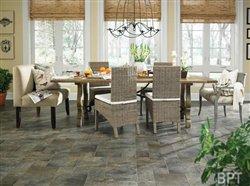 A survey by Angie's List revealed Americans spend more than $300 billion annually on remodeling projects. Yet these endeavors typically focus solely on a home's aesthetics while ignoring one important consideration: Is your home healthy?
Spring window checklist: 5 questions to ask your contractor before replacing windows
With spring quickly approaching, it's a good time to begin thinking of home improvement projects that will look great, but also save energy. Window replacement is one project that will help increase the energy efficiency of your home and improve curb appeal.
Practice water conservation at home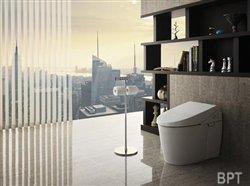 Home is the place a person can always escape for some rest and relaxation. This year, upgrade your home to be a place that also helps you conserve water and be a better environmental steward.
DIY gifts for guys
Show the man in your life how much he is appreciated, not just for Father's Day, but 365 days a year. Choosing the perfect gift for that special guy can sometimes feel like a challenge. If he enjoys fixing things around the house and tackling home improvement projects - big or small - look no further for the perfect tool to add to his collection.
A small investment returns a safer and healthier home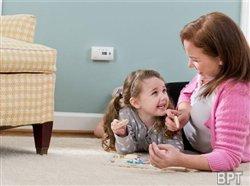 Warm weather is here, which means many homeowners are beginning new DIY projects. Have you included home safety on your list? Almost every home in the U.S. has a smoke alarm, but most do not have enough. Fire experts recommend installing alarms on every floor and inside and outside of every sleeping area. A recent survey by Kelton Research found less than a quarter of homeowners have applied this rule. A fire can double in size every 30 seconds. The sooner you hear a smoke alarm, the more time you have to escape.
Gas fireplaces get even safer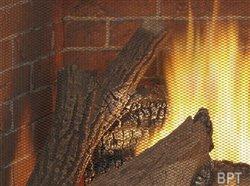 Whether it's to provide heat on cold winter days or to set the mood on romantic spring evenings, a glowing fire creates an appealing home atmosphere during any season. Gas fireplaces are convenient and add real estate value, but recently, more homeowners have become concerned about safety.
Five budget-friendly outdoor living space solutions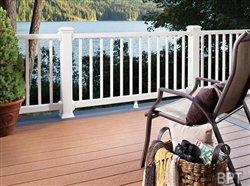 As summer approaches, you're probably dreaming of a luxurious outdoor retreat ideal for al fresco lunches, cookouts with friends or lazy afternoons spent sunbathing. While you also may be wondering if this project fits within your budget, it is possible to construct a completely customized outdoor oasis without breaking the bank.
Take advantage of tax credits to stretch home improvement dollars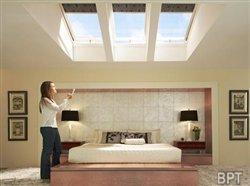 What better way to get money back than to save on your taxes? A host of energy-efficient home improvements are eligible for federal tax breaks. If you're planning summer home improvements, here are some facts about energy efficient upgrades and available tax credits.
Expanding outdoor living space adds value to your home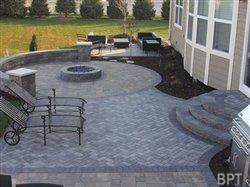 Even during a challenging economy, the outdoor living trend remains popular as homeowners seek to add lasting value and functional living space under the sky and stars. Whether it's a do-it-yourself patio or a professionally installed outdoor kitchen, the beauty, usefulness, value and ease of maintenance in outdoor living space is limitless.
Wall-mounted sliding door 'reflects' a genius design solution
Like many couples who share a bathroom, one Arizona couple was frustrated by the space that was compromised by a swinging bathroom door. The open door swung into the bathroom vanity and took up too much space in a very traditional bathroom.
Whitewashed floors complement lively decorating trends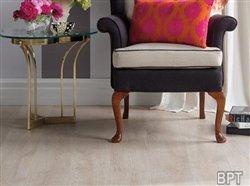 It's the season of sunshine and enjoying the great outdoors. Celebrate it with a style makeover for your home by tapping lively decorating trends and home decor ideas that will refresh and brighten your living space.
Easy tips for a manicured lawn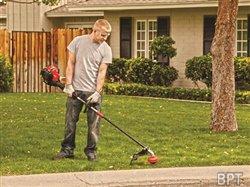 The days are getting longer, the grass is growing and yard work season has begun. Many homeowners strive to have the best lawn in the neighborhood, but the task ahead can often feel daunting and time-consuming. Although yard work can be overwhelming at times, the steps to a great-looking lawn are easier than you think.
Upcycling: Breathe new life into decor with a dash of DIY inspiration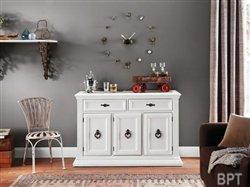 If you've ever looked around your house and gotten the urge to purge, you might consider pausing and first thinking about how you could transform that old, damaged piece of furniture or outdated light fixture into a fresh-faced showpiece for your home.
Give your home a true green cleaning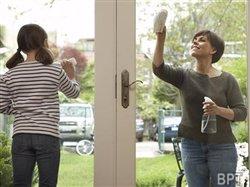 When you clean your house, you really want it to be clean. Dirt, dust and germs are banned, and all appliances, floors and walls are scrubbed clean. The best way to make sure your living space is clean and healthy is to use safe, natural cleaning products you create yourself, using natural and inexpensive ingredients you can pick up at any natural grocery store.
Five home improvements for the love of spring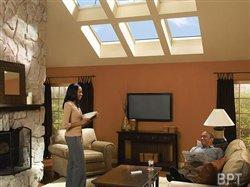 The best home improvements deliver all those smart qualities and speak to your heart at the same time. With spring home improvement season approaching, here are five home improvements that you can do for the love of spring - and the love of your biggest investment.
Eight easy ways to organize - and maximize - a small bath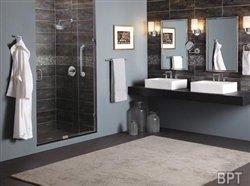 The bath serves a variety of uses, from a functional room to a serene sanctuary, a storage facility to a salon. And, whether you enjoy it yourself or share with the family, every bathroom is in need of one major thing - organization. To help keep your bath feeling more serene and less insane, follow these eight ideas to help improve your organization, maximize space and even add a bit of style.
Think outside the fuse box: Unique energy-saving home improvements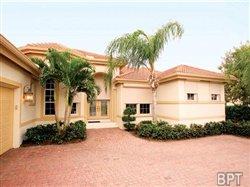 When you've covered the basic and obvious ways to trim energy use at home, it's time to start thinking outside the fuse box. Here are three unique home improvements that can help make your house even more energy-efficient.
Aging-in-place upgrades that look great and make sense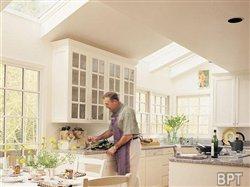 Do the words "aging in place" and "home improvement" conjure images of institutional-looking grab bars in bathrooms and overhead kitchen lights that could illuminate an airport runway? Here are a handful of aging-in-place upgrades that shout "fabulous" instead of "fogey."
Well-built decks marry personality and functionality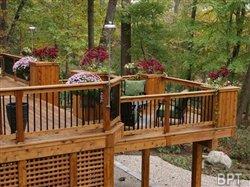 As temperatures increase, your thoughts may wander to spending time outside sharing conversation, drinks and meals with friends and family. For many homeowners, that can mean renovating an existing gathering spot or replacing it with a new deck. A well-planned deck can increase a home's value and usable space.
Green home improvements that can make a real difference in home value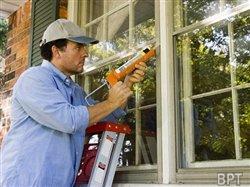 What your home is worth to you is one thing - what it's worth to someone else could be totally different. But if you want to boost the value of your home for both yourself and in the eyes of others, one of the best ways to do it, in today's real estate market, is to make green home improvements.
What to look for when buying a zero-turn mower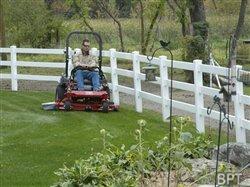 Ever wonder how those lawn-care guys get so much done in a day? They use zero-turn radius mowers that can significantly trim the time and effort involved in cutting grass. If you have a large yard to cut, a zero-turn mower can make your task quicker and easier.
Amazing accents under $100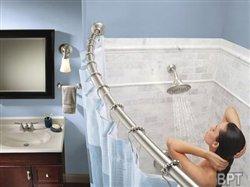 If you're bored by your bathroom, you might think a total room remodel is the only way to make a difference. And, if you're like most homeowners, you might not have the time, expertise or budget to tackle high-profile projects like replacing your flooring, vanity, tub or shower. Luckily, in a small space like a bathroom, making tiny tweaks can make a big impact.
Basement waterproofing - superficial vs. legitimate solutions
Any home or building that is built at ground level or contains floors below ground level is a good candidate for basement waterproofing, although there are superficial, cosmetic solutions for waterproofing a basement that really won't solve the true problem
Go green and live comfortably all year long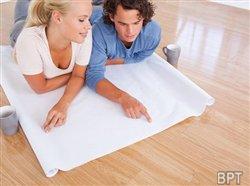 Milder temperatures and longer days mean winter is fast becoming a distant memory. However, environmentally conscious homeowners know that the arrival of warmer weather also means the likelihood of increased air-conditioner use and higher energy bills.
Mix and match trend revolutionizing deck design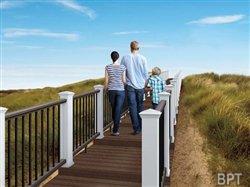 When it comes to fashion faux pas, the only thing worse than clashing patterns is overly matching every item. Mixing and matching creates exciting contrast - and not just when you dress yourself, but also when you "dress up" your home. The trend toward mixing colors and materials has made its way outdoors, with enterprising homeowners getting creative with their decks.
Kitchen updates that won't break the bank
Take a look around your home and think about which spaces you use most. If the kitchen made the list, you're not alone. For most homeowners, the kitchen is the heart of their home, and all the time spent there likely causes a fair amount of wear and tear. If this sounds like your kitchen, it might be time for a remodel. Here are some great ideas for updating your space on a budget.
Set yourself up for the perfect season of outdoor entertaining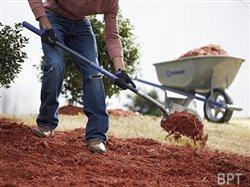 As temperatures warm, many of us can't wait to get outside and rediscover the joys of our outdoor spaces. One of the best ways to ensure the enjoyment of your space all season long is with some spring cleaning and upkeep of your yard and outdoor living spaces.
Backyard trends: Save money installing your own vinyl fence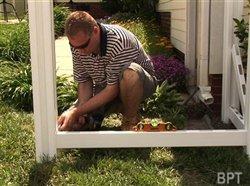 If you want the maintenance-free benefits of a vinyl fence but are intimidated by the price tag, you're not alone. Many homeowners are initially surprised at the cost of a vinyl fence, particularly since the installation costs are generally as much as the materials. Recent trends show that more and more homeowners are saving money by installing their own vinyl fencing.
Make exterior trim part of home remodeling
As existing home sales continue to climb and housing prices increase, remodeling is also on the rise, according to the Joint Center for Housing Studies of Harvard University. Owners of older homes are investing more in home improvement projects that add beauty and value, especially with environmentally friendly products.
Color, texture and more: Vinyl continues to be America's most-installed siding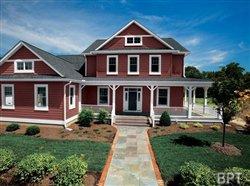 While vinyl siding has historically been the most-used siding material in the U.S., its continuing advancements are allowing even more choice when it comes to two critical qualities desired by homeowners: outstanding curb appeal and low maintenance. Add to this to the growing interest by homeowners to save energy and the increasing green measures being taken by builders, and insulated vinyl siding stands out as a versatile choice.
Deck DIY: Five tips to upgrade your outdoor living space for summer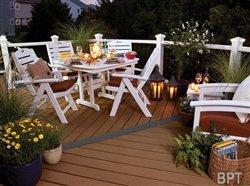 From grilling and dining to simply relaxing, your home's deck is frequently the center of family life during warm weather months. That's why there's no better time to give your outdoor living space the upgrade it deserves.
Productivity-boosting improvements for your home office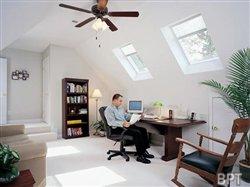 With more Americans working from home, creating an inviting, inspiring office space is more important than ever. Simple improvements will enhance its appeal - and your productivity.
Weekend home improvement projects that add value and curb appeal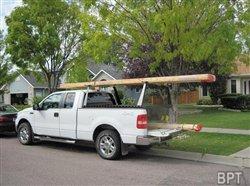 Weekend warriors rule as 2013 is proving to be the year that the do-it-yourself trend reaches full momentum. If you have a weekend to spare, you have plenty of time to make some home improvements that add value and curb appeal. The key is to choose projects that have a big impact, but only take a few days to complete.
How to turn your backyard into the best vacation destination
There's a reason why virtually every great hotel in a great location has a pool and hot tub: people love recreation and relaxation. When it comes to creating a resort-like vacation experience in your backyard, nothing fits the bill better than a swimming pool or hot tub.
Three ways to make your backyard safe for your kids and pets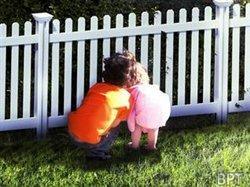 The sun is shining, the air smells of freshly cut grass and the kids are out of school. Long, lazy summers are a staple of any childhood, and getting outside for exercise and fresh air is healthy for both children and pets alike. By taking some simple safety measures in your backyard, you can also enjoy a relaxing, stress-free summer.
DIY tricks that make bathroom renovations easy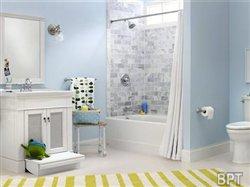 When it comes to home improvement, Americans have embraced doing it themselves - in a big way. Among homeowners who plan to make improvements, 64 percent say they will do it themselves, according to American Express' Consumer Spending and Saving Report. Yet one area of home improvement continues to give even adventurous and confident DIYers pause - bathroom renovation.
Small energy improvements that save big money in the new year
The beginning of the year is a great time to make positive changes in your home. While many will wait until March to embrace "spring cleaning" season and make home improvements, a few simple changes can be made now to help you conserve energy and start saving money right away. Here are some steps that can help lower energy consumption - and associated costs - in your home this month and throughout the year.
Five steps to create a customized outdoor living space with railing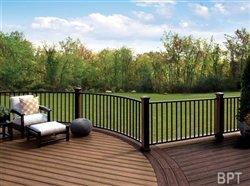 Railing can upgrade any deck from drab to fab - adding style, as well as safety and support. In fact, it's often the one element that truly sets your outdoor living space apart from others in the neighborhood. Here are five steps to create the perfect perimeter for your deck.
2013's hottest home trends and easy upgrades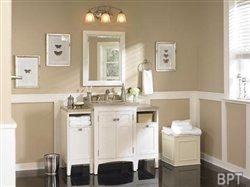 The top home decor trends for 2013 are already emerging, and homeowners seeking a fresh look will find a lot to love. Not only can these looks be accomplished in minimal time - they're budget friendly and easy enough for DIYers to finish in a weekend or less.
It's all in the details - how to accessorize your home exterior
When considering exterior home improvements during spring and summer, many homeowners go for updates such as the replacement of siding or windows. These projects can make the home look great while boosting energy efficiency, but no matter how much homeowners invest in siding or windows, it will only look as good as the trim used to complete the job.
Popular remodeling trends for spring home improvement
It's time to think spring which means fresh home updates. Spring home improvement projects will help you update your home, add comfort and save more of your hard-earned paycheck.
Making the perfect outdoor living space in your backyard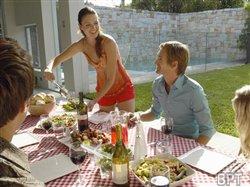 As the weather begins to warm and the daylight hours get longer, your yard can quickly become the most important "room" of your home. However, you aren't alone if your backyard looks outdated and lackluster. Weather conditions can be tough on outdoor areas, but with a few simple updates, you can create the perfect outdoor living space.
Selling your home? Make it more appealing to buyers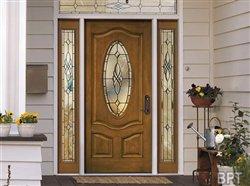 You've made the decision to sell your home - now you want to position yourself for a quick and successful sale. What's the most important thing you can do to entice buyers?
No backyard? No problem - the new trend of yardless gardening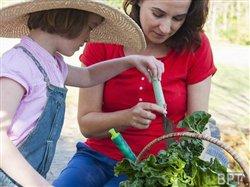 The number of American households engaging in do-it-yourself lawn and garden activities rose by more than 3 million in recent years, the National Gardening Association's National Garden 2012 Survey found. That can include you, even if you don't have an actual yard. Yardless gardening is a popular alternative for people short on green space looking to flex (or find) their green thumbs. Here are some tips.
The most common mistakes homeowners make when choosing a home improvement contractor and how to avoid them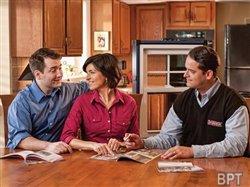 Consumer complaints and lawsuits regarding home improvements are on the rise according to Ripoff Reports; a homeowner that does not do their homework before embarking on a project could find themselves with poor workmanship, inferior products, health and safety issues or even legal problems.
Five tips for kitchen redos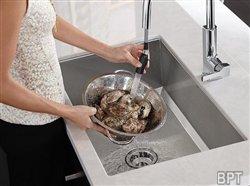 Feel the need to renovate? If so, you're not alone. Fifty-three percent of homeowners believe that now is a good time to remodel, according to a recent survey by Houzz.com. When deciding on where the makeover begins, look no farther than the kitchen. Kitchens are a major selling point for homebuyers, so a kitchen remodel is good for the home-selling price. Even if you have no plans to move, the kitchen gets more traffic than any other area of a home and serves as the family hub, so it deserves the attention. To ensure a successful project, keep in mind these kitchen-remodeling tips.
Four hot, new-home trends that can work for your remodel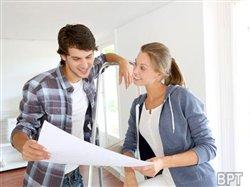 If you're planning to renovate your home, you can tap some of the hottest trends showing up in new-home designs. Here are four new-home trends that offer strong returns on your time and money.
Help your landscape defeat the heat and thrive this season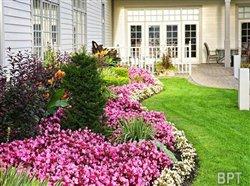 April showers might bring May flowers, but the coming season also could bring stifling heat that scorches landscapes or results in ongoing water shortages. This season, de-stress lawn and garden care with seven quick tips that will help you reduce outdoor water consumption, while keeping your landscapes lush, healthy and vibrant.
Easy DIY cures for common concrete problems
As with other home maintenance tasks, making your own repairs to minor concrete damage yourself can prevent problems from becoming worse - and turning into something that requires costly replacement by professionals. Here are some concrete repair tasks that you can do yourself, and helpful tips for doing the jobs right.
Shrug off that winter chill with smart home improvement projects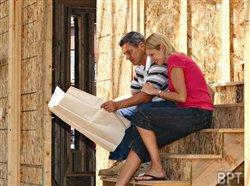 Spring is drawing nearer and, for homeowners, now is the time to shrug off the winter chill and think about home improvement plans. Building industry experts say that it's an ideal time to carefully consider and prioritize your plans - both cosmetic and structural.
Renew yourself and your home in four easy steps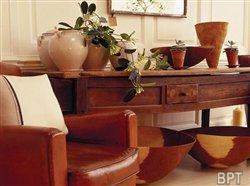 Your home can find new life when the weather warms. The transition of seasons is a perfect opportunity to refocus on improving yourself and your space.
Turn over a new leaf this season with a home energy makeover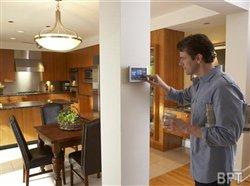 As the seasons change, turn over a new leaf and give your home an energy makeover. You can improve your home's comfort while helping the environment by making your home more energy efficient.
Bathroom upgrades that boost livability for anyone aging in place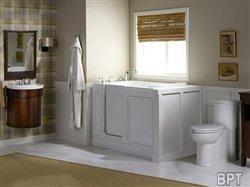 Staying safely in their own home as they grow older is a major concern for many Americans. If you plan to live independently at home for as long as possible, making a few simple changes in the bathroom can help you do so more comfortably and safely. Here are a handful of cost-effective changes that can help facilitate aging in place.
How to breathe easier in your own home this spring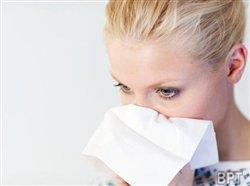 With spring on the horizon, airborne allergens and pollutants can cause much grief to homeowners who suffer from breathing problems such as asthma and seasonal allergies. With the potential for increased irritation, allergy sufferers typically seek long-term, consistent relief any way they can.
Add economical living space with an outdoor room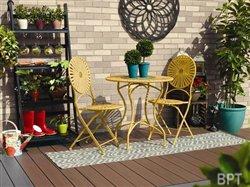 Adding living space to your home can be an expensive prospect. However, creating an outdoor room is a budget-friendly option that gives you more square footage, as well as additional opportunities to enjoy the season. As an extension of the home, outdoor rooms with decks or pergolas can be personalized to truly bring indoor comforts outside for relaxation and entertaining.
Five swimming pool myths that are all wet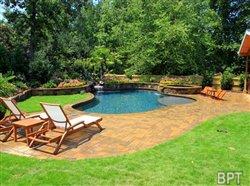 From the belief that it costs too much to operate a pool to the misconception it will go unused, myths about pool ownership abound - and they likely dissuade some homeowners from making this valuable home improvement. If you've been considering adding a swimming pool to your outdoor environment, here are five common myths that simply don't hold water.
Home chefs use new technology to cook with ease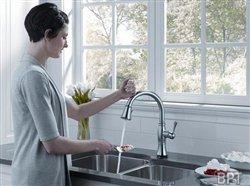 Home cooks are spending more time in their own kitchens and less time dining out. Fortunately, technology makes it easier than ever for home chefs to prep and cook meals at home and clean up conveniently and efficiently afterward.
Enhance your outdoor space with an outdoor fireplace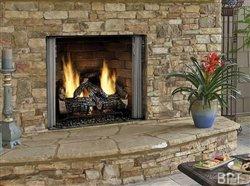 Warm weather is here - and it's time to get outdoors.Fire up the grill, dust off the patio furniture and envision relaxing on a cool night around an outdoor fireplace. Here's what you need to know if you want to enhance your outdoor space with a beautiful fireplace.
Baby boomers: Bathroom updates that increase livability and home value
Baby boomers are a smart group when it comes to home updates. While embracing life today, they fully recognize that in the future, their homes may need upgrades to help them live well and stay safe. The bathroom naturally gets the most attention and for good reason - it's one of the most frequently used rooms in a home and also one with many hazards. Baby boomers are turning towards safer bathing options to support their changing lifestyle including walk-in baths, handicap accessible showers, and other supportive furnishings.
Staging on a shoestring: Tips from the pros for quick home sales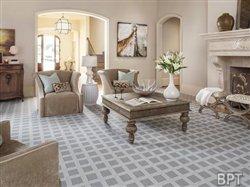 The real estate market is starting to show signs of improvement, which is welcome news for people wanting to sell their homes. This positive momentum alone isn't enough to close a deal, though - a homeowner must make their properties appealing to potential buyers so they stand out from the competition. The good news is it's easy to create an appealing atmosphere with a few staging tips and tricks from the experts.
Make warm-weather chores a breeze with these tips
Warm weather brings everyone outdoors - grilling on the deck, playing on the lawn and savoring beautiful gardens. To create these beautiful outdoor spaces, the experts at Lowe's offer four easy, affordable projects you can do yourself. Follow these tips to make sure your outdoor spaces are in tip-top shape by summer's end.
High-tech homes make everyday living simpler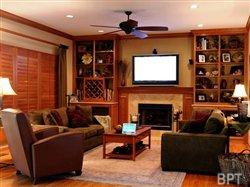 If you find yourself wondering how you ever got along before your smartphone, laptop and GPS, you're not alone. Technology is so much a part of how we go about our days that we often take it for granted. However, in many cases, houses haven't caught up to the same technological standards as the gadgets people carry with them 24/7. But that's all about to change, as new ideas begin to revolutionize the way we view our homes.
Three must-have features to add to your backyard this summer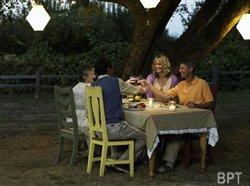 Is your backyard ready for bliss this summer? You probably look forward to spending as much time outdoors as possible during warmer months. Here are three must-have backyard features that can keep your outdoor time comfortable, enjoyable and luxurious, no matter the time of day or night.